eHouse'i visualiseerimine Creatvõi - drawing views based on individual design või template.
eHouse Visualization Creator / Editor (skaleeritav vektorgraafika)
eHouse Visualization Creator / Editor
on Corel Drawi jaoks VBA (Visual Basic for Applications), mis võimaldab:
nimede importimine eHouse'i konfiguratsioonirakendustest
SVG-objektide joonistamine: käsitsi, toetatud skript, mis põhineb individuaalsel mallil
Creating "Active Views" for graphic control for web browsers, and eHouse Visualization applications for Android, Java, Windows,.Net/.Net CF, etc
Visualisatsioonide eksportimine: natiivsete e-maja rakenduste jaoks, veebibrauseri lehed, kohandatud visualiseerimised (malli põhjal) - tekstivormingus
Eksport võimaldab hõlpsasti kohandada ekraani suurusi / eraldusvõimet
See lahendus nõuab
Coreli viik
VBA toega rakendus (pole saadaval mõnes piiratud versioonis: kodu / õpilane). However, creating of visualization is rather one-time operation, and you can use Evaluation/Trial Full version of
Coreli viik
to create visualization.
An example of eHouse Visualization view created for an individual project in the Corel Draw application using SVG (scalable vector graphics).
Each eHouse "Active object" (iga signaalitüübi oleku jaoks: sisse / välja, kõrge / madal / ok) luuakse ühele "Active" layer of the Corel Draw application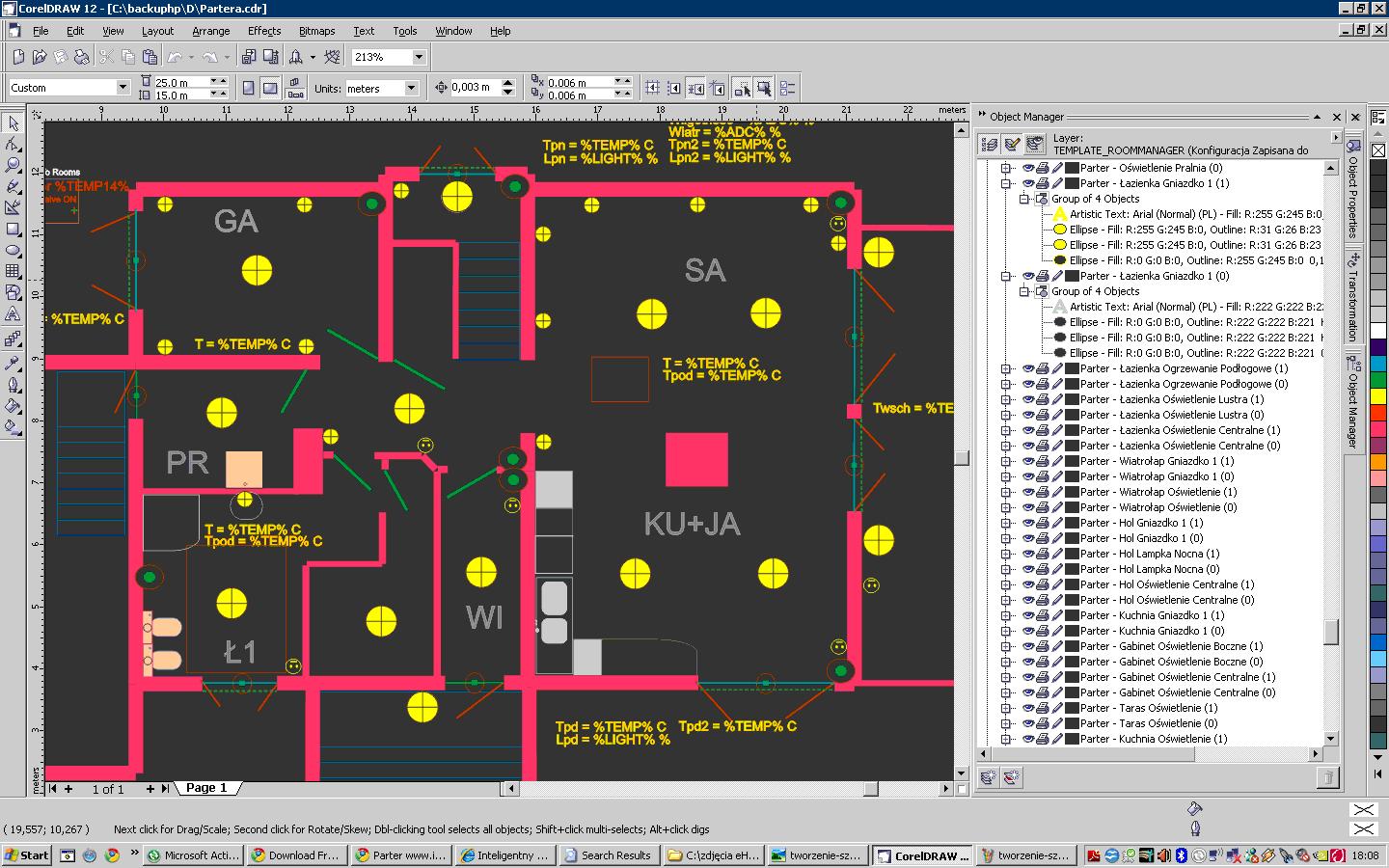 The view is created in 1:1 scale (entered X/Y initial size is in meters.
After initialization of empty "Active Form", walls/lines and other simple objects may be imported to the form in 1:1 scale to neutral layer.
Graafiliste juhtimis- ja visualiseerimisvaadete suurema paindlikkuse (väikesed nutitelefonide ekraanid, halb nähtavus väljaspool, väikesed puutepaneelid) jaoks soovitame tungivalt minimeerida vaates mittevajalikud objektid, et saavutada 5-tolliste nutitelefonide täielik funktsionaalsus (ilma suumimise ja kerimisekraanita).
Visualization allows you to create simple "Active" joonised ja objektid, mis tagavad kuvamise kõrge ühilduvuse erinevate eHouse'i visualiseerimisstandardite jaoks:
rida
teksti
hulknurk
ristkülik / ruut ümardamisvõimalusega
ring
ellips
tee
Aktiivsed objektid
means that object change display parameters (eg. colors) depending on hardware signal state (Input, Output, ADC, Dimmers). Additionally to displaying signal state, pressing object initiate actions (linked command submission to the system).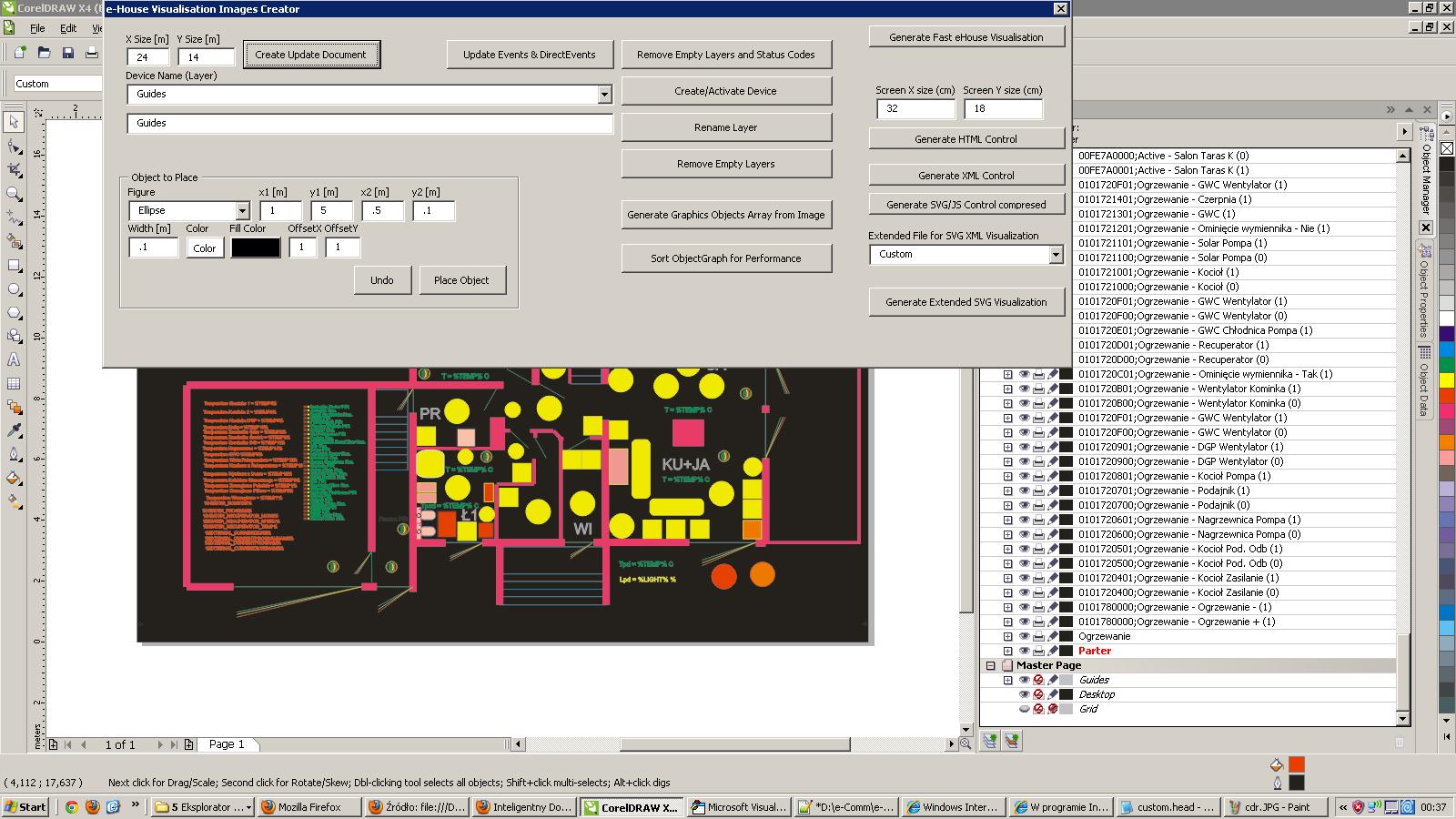 When precision positioning is required, macro supports placing direct objects at the required coordinates.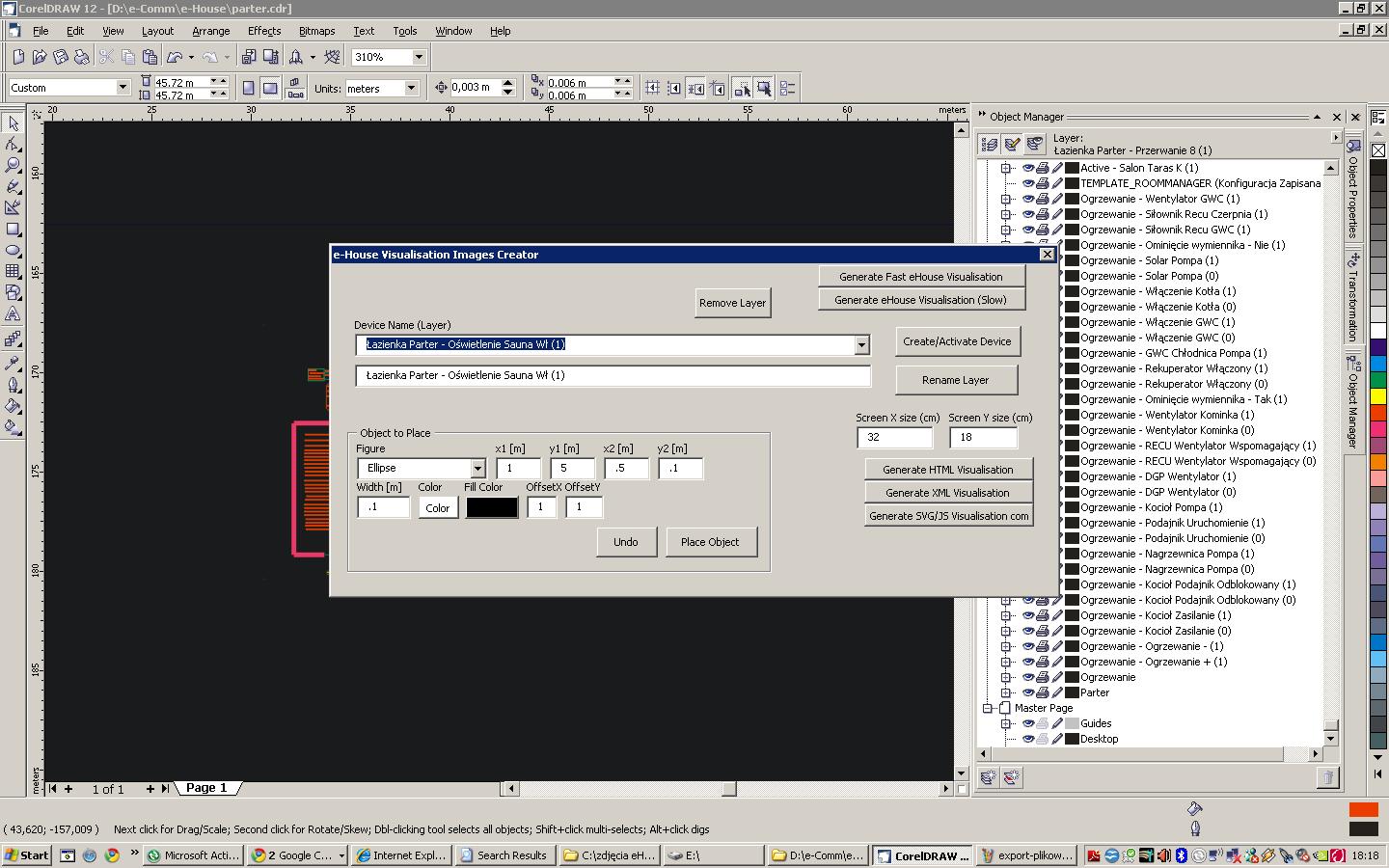 Mallide põhjal automatiseeritud visualiseerimise loomine
Automatic placement of "Active objects" visualiseerimise lõuendil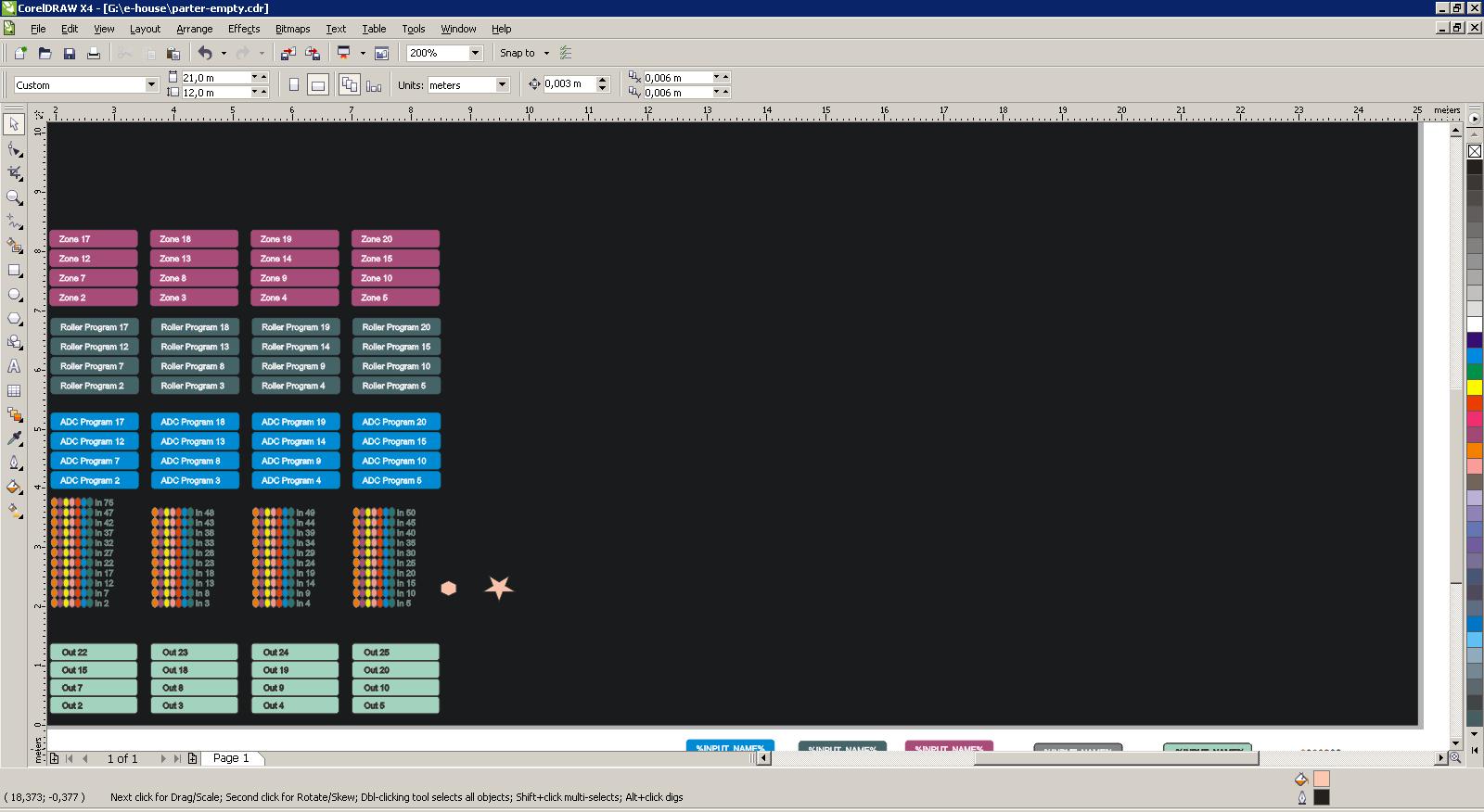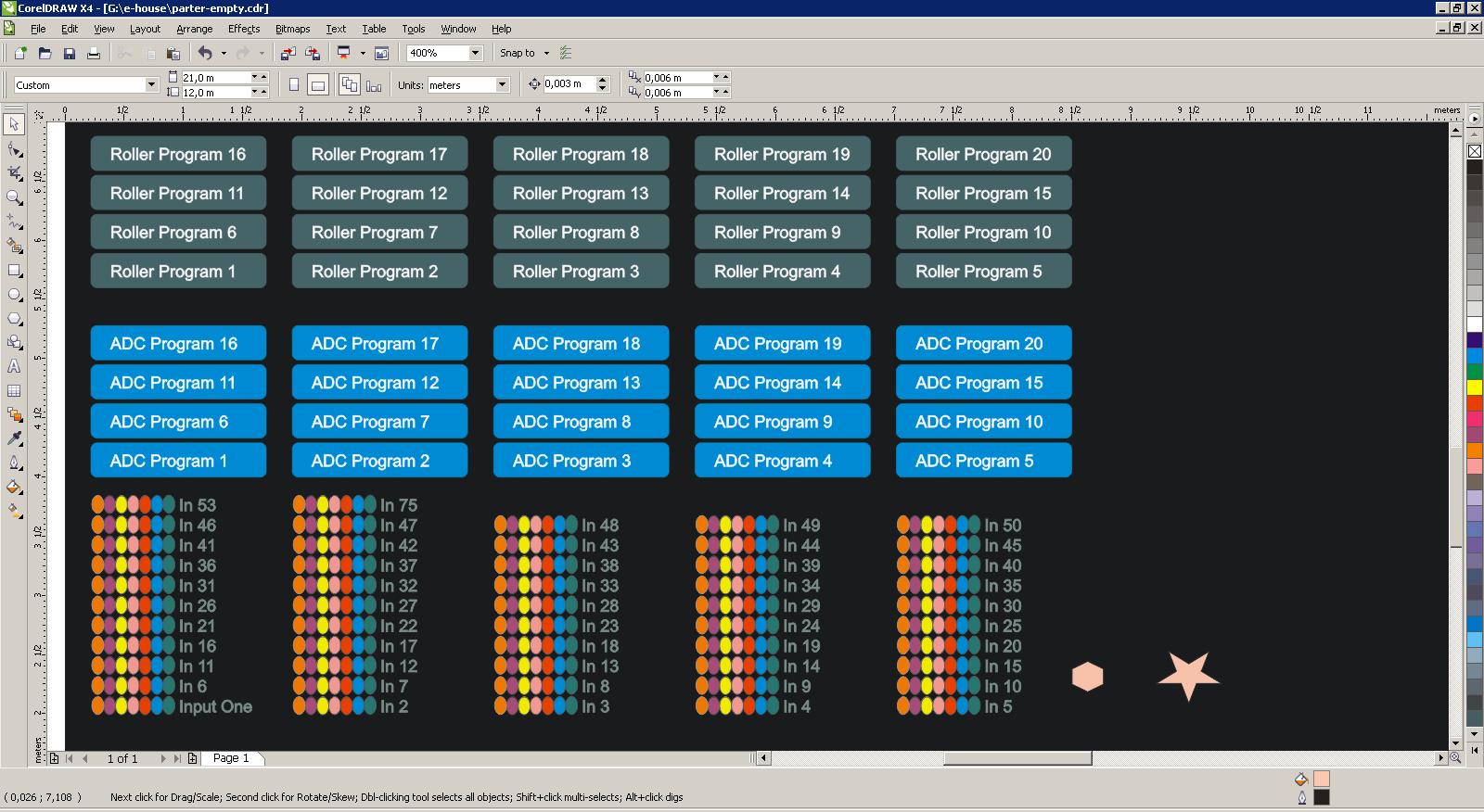 Vaadake veebibrauseris (kõik toetavad SVG-d)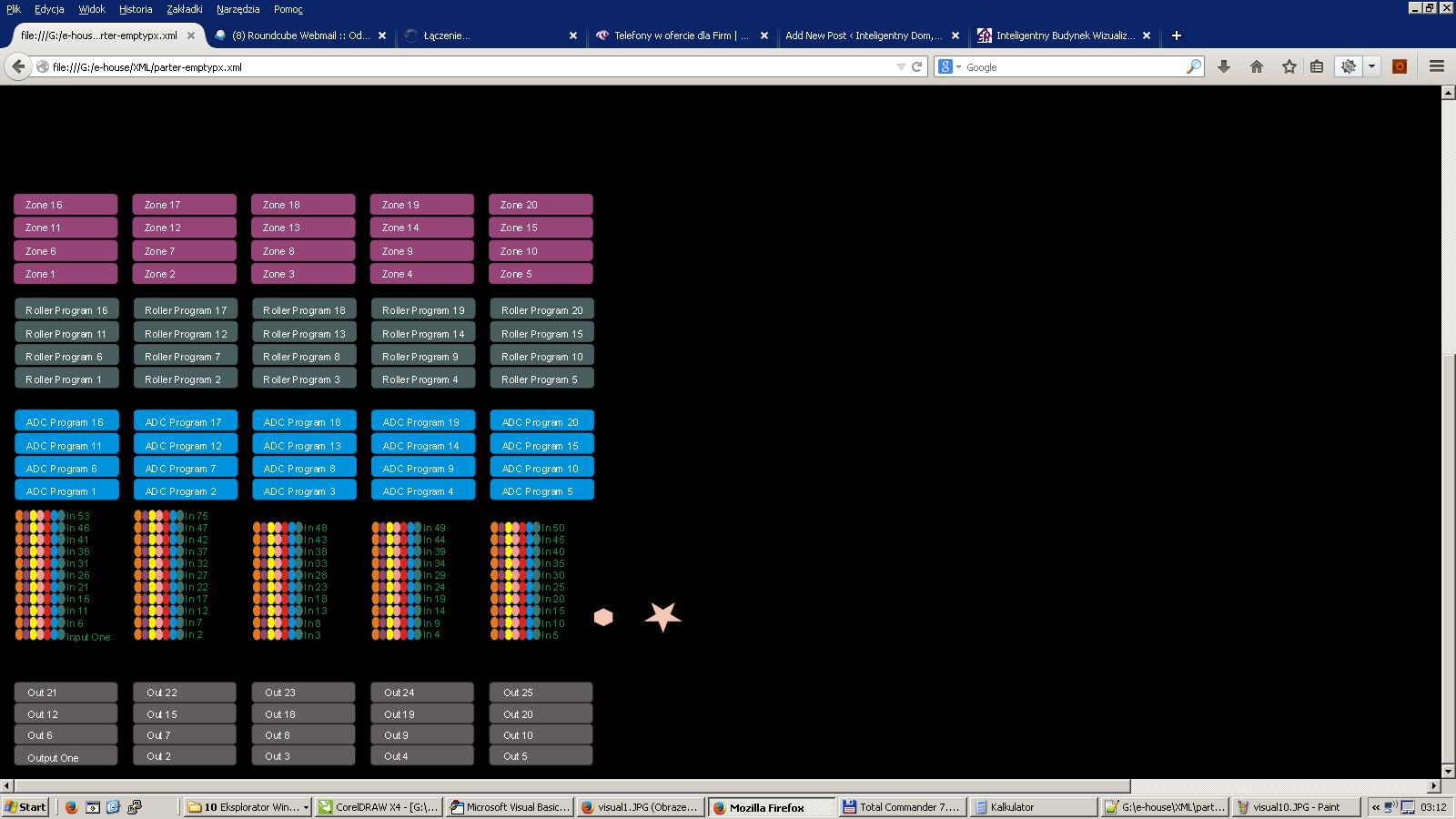 Initialization of visualization and loading of data from the eHouse configuration.




Eksportige veebibrauserite, eHouse'i visualiseerimisrakenduste visualiseerimise andmeid



Visualiseerimise loomise täieliku kirjelduse leiate aadressilt:
eHouse hoone automaatika visualiseerimise looja
|
PL