EthernetRoomManager (ERM) - Room Controller. eHouse LAN Buildng Automation.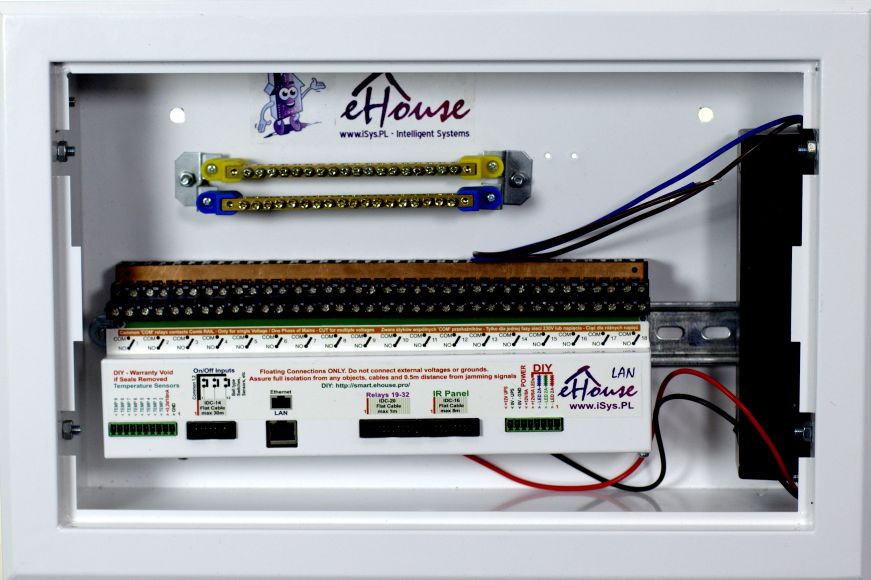 EthernetRoomManager (ERM)
controller is equivalent of RoomManager (RS-485/422) and works directly in the Ethernet network (LAN).
EthernetRoomManageri võib paigaldada suurematesse ruumidesse (hoone, hotellid, kontorid, külalistemajad), mis lühendavad kaablite pikkust 3–5 korda (võrreldes keskjaama paigaldustega)
EthernetRoomManager võimaldab kahesuunalist infrapuna-IR-juhtimist:
Juhtige EthernetRoomManagerit infrapuna kaugjuhtimispuldiga
juhtida audio- / videosüsteeme infrapuna kaudu otse kontrollerist
IR external panel for EthernetRoomManager should therefore be installed in front of Audio/Video system.
EthernetRoomManager enables creation of decentralized installations (local control of individual rooms) and works only in the Ethernet (LAN) architecture.
EthernetRoomManageri omadused:
3 dimmers for regulation level of lighting in rooms (PWM outputs) 12V / 2.5A
32 digitaalväljundit (sisse / välja) (väliste releede ühendamiseks elektriliste / elektrooniliste seadmete sisselülitamiseks)
sisseehitatud infrapuna (IR) saatja heli- / videoseadmete juhtimiseks seadme kaugjuhtimispuldi jäljendamise kaudu
sisseehitatud RS232 liides - TTL süsteemilaiendi installimiseks
8 analog inputs for measuring the voltage value from analog sensors (e.g.. temperature, lighting) with programmable thresholds (min, max)
LED RGB PWM draiverid - 12VDC / 3A optoisolatsiooniga (lisavarustus)
on programmeeritav kalender - ajakava süsteemi sündmuste käivitamiseks (128 üksust)
Sisseehitatud infrapuna (IR) vastuvõtja kaugjuhtimispuldi või juhtpaneeli jaoks (Sony standard) - SIRC)
sisseehitatud Etherneti liides - otseühenduseks LAN-võrguga
24 stseeni / programmi, mis võimaldavad kõigi väljundite ja hämardite üheaegset lülitamist programmeeritud olekutesse
12 digital inputs (On/Off), for connecting external switches, digital sensors, e.t.c
12 profiili (mõõtmis- / reguleerimisprogrammid), mis töötavad analoogmõõtesisendite jaoks, määrates kõigi mõõtesisendite künnised (min, max) kokku
built-in TCP/IP server to control the system with the possibility of simultaneous connection up to 5 clients.
Serverid võimaldavad:

sündmuste vastuvõtmine TCP / IP paneelidelt
läbipaistva režiimi saamine Etherneti lingi ja RS232 vahel
seadme oleku saatmine TCP graafilistele paneelidele ja visualiseerimine

Control the DALI lighting - 46 channels (requires an external opto-isolation driver). Includes 24 scenes/ programs for DALI lighting
sisseehitatud TCP / IP klient eHouse Etherneti ja WiFi süsteemi suhtlemiseks
ringhäälingu kontrolleri olek UDP kaudu piiramatule arvule paneelidele
serverid ja TCP / IP klient kasutavad süsteemi purunemise vältimiseks dünaamilist ja turvalist väljakutse-vastuse autoriseerimist. Algoritm on iga süsteemi installi jaoks erinev. Only eHouse devices, panels and software controlling package from the same installation allow you to connect to the system via TCP/IP
Control DMX lighting - 32 channels (requires an external opto-isolation driver). Includes 24 scenes/ light programs for DMX lighting
built-in self-monitoring functions, communication test, watch dog timer, protection against hanging. The device resets itself if there is no communication for long period of time
firmware upgrade function via encrypted bootloader directly from the eHouseLAN Windows application.
Pood:
eHouse LAN-kontrollerid
RoomManager
eHouse LAN hoone automatiseerimise süsteemi seadistustarkvara
OEM-variandid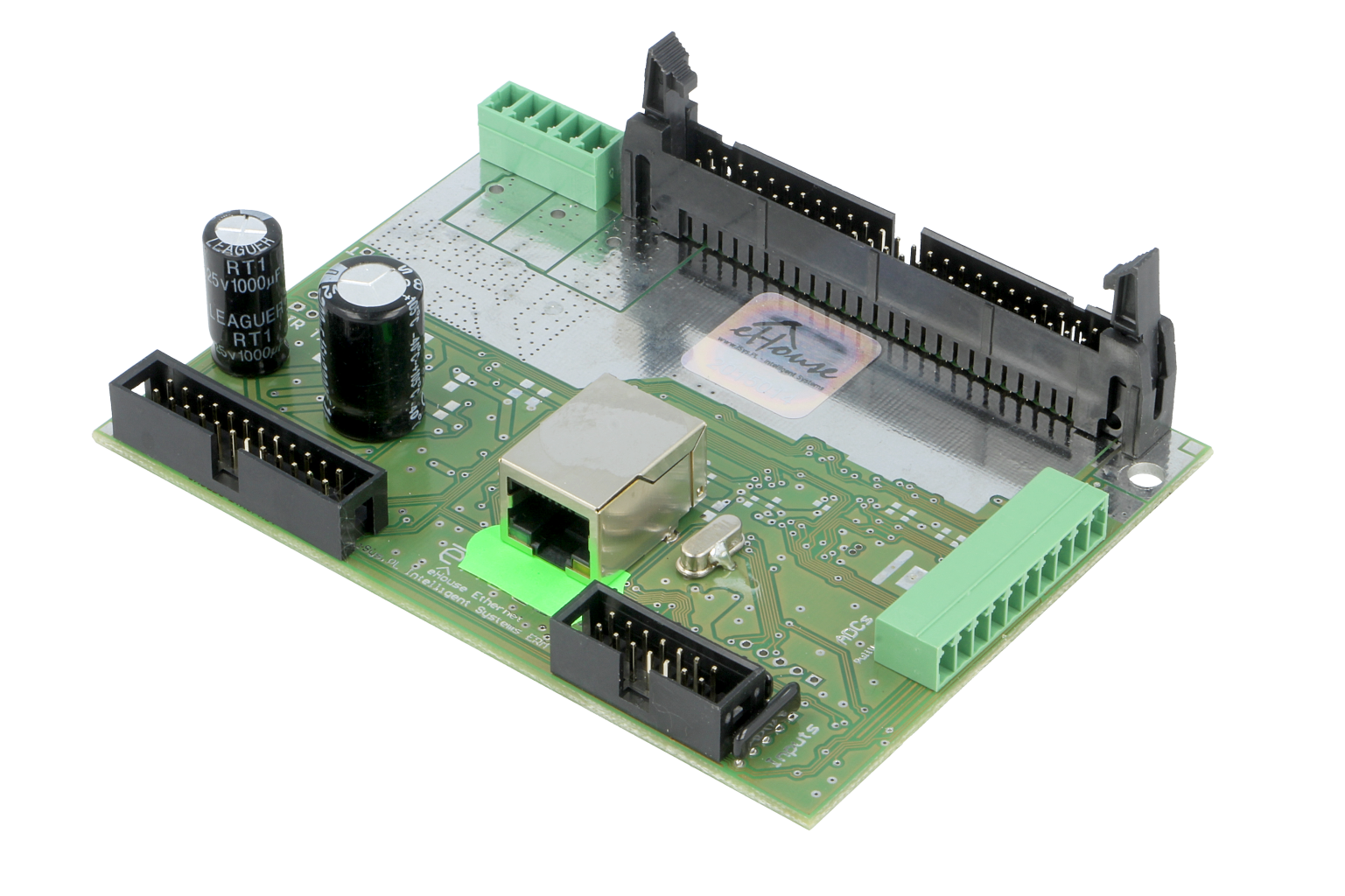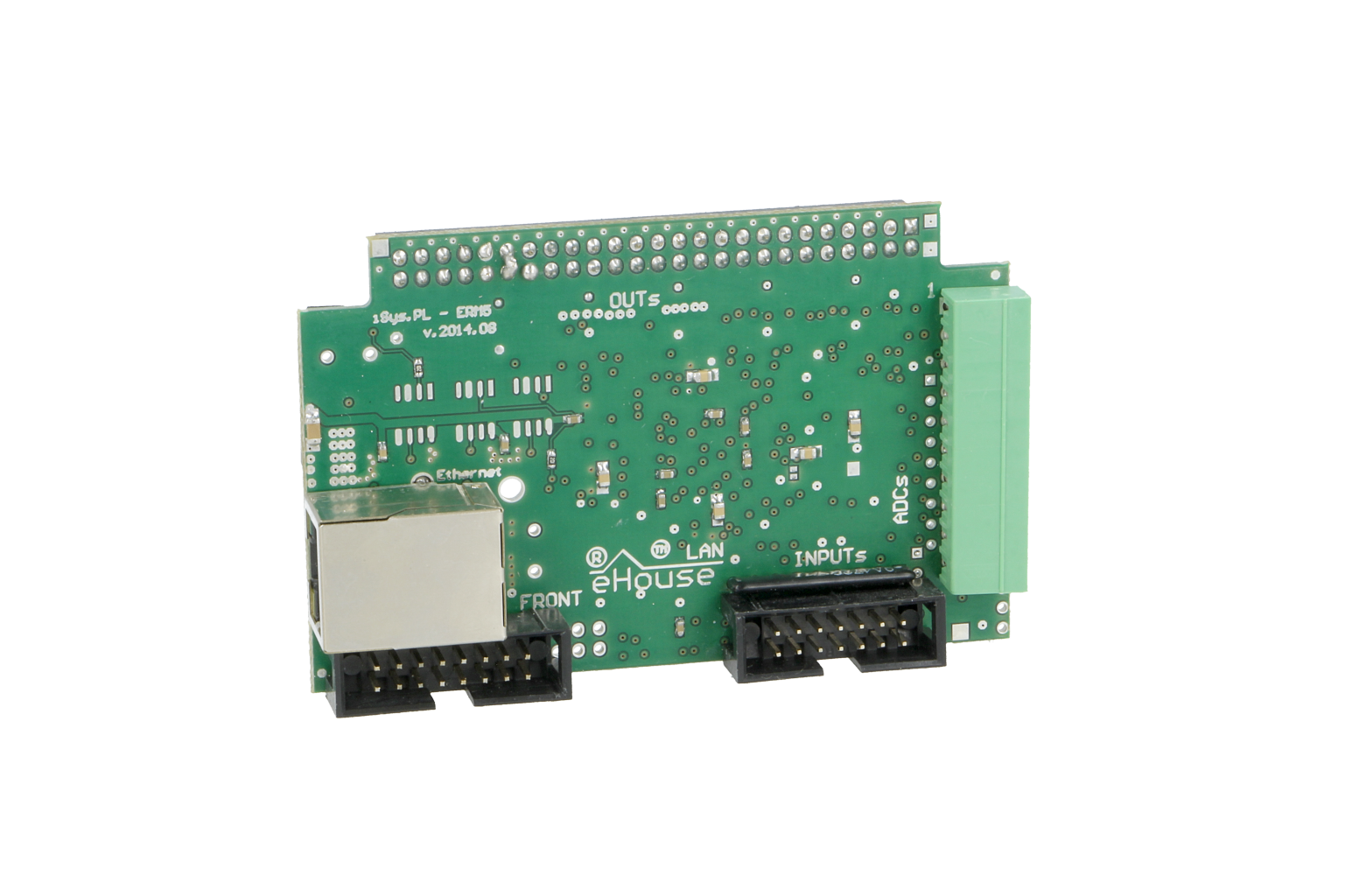 ---